Press release
July 3, 2023
Waste management
E-waste
Weee
E-waste management
WEEE Recycling
WEEE.cloud is a professional waste management system available for every professional waste management company in the world.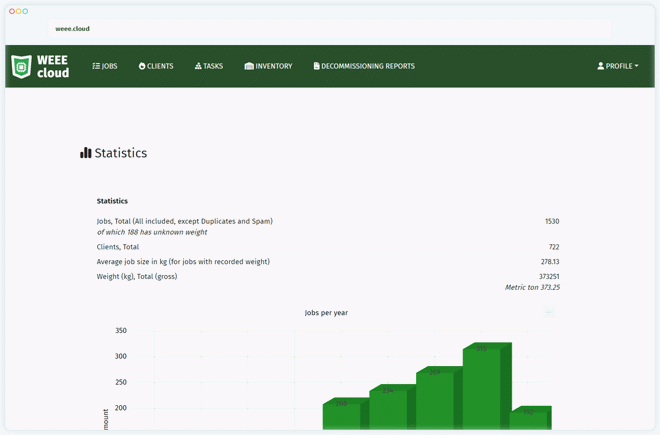 WEEE.cloud (https://weee.cloud) is thrilled to announce the launch of its innovative B2B Software-as-a-Service (SaaS) electronic waste management system. This cutting-edge platform is designed to revolutionize the way businesses handle electronic waste, providing a comprehensive solution for managing collection, treatment, recycling, and recovery of electronic waste.
The WEEE.cloud platform offers a range of features tailored to meet the needs of any electronics waste company. Some features include
Issuance of e-waste certificates
Issuance of decommissioning reports
Automatic CO2-calculations and measurements
Inventory management
Supply management
Integrated statistics
Client, user, and role management which enables clients to be managed effectively, as well as users and companies.
The platform is easy to use and integrates seamlessly with existing business operations and even business websites using the.
WEEE.cloud's pricing structure is designed to be transparent and affordable, ensuring that businesses of all sizes can access our services. Detailed pricing information can be found on our website at https://weee.cloud/pricing. We believe that managing electronic waste should not be a financial burden for businesses, but rather an investment in our planet's future.
For more information about our new SaaS electronic waste management system or any inquiries regarding electronic waste management, please contact us directly at WEEE.cloud. We look forward to serving you and contributing to a more sustainable future.
Subjects
---
Waste management
E-waste
Weee
E-waste management
WEEE Recycling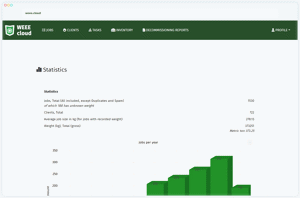 Professional e-waste management software for companies and organisations.
Download | 0.03 MB | 656 x 996 | .png
Zip and download all files