Press release
September 28, 2022
Bitcoin
Ethereum
Cryptocurrency
Cryptonews
Crypto interest is at an all-time low - But these 10 states are still crypto-hyped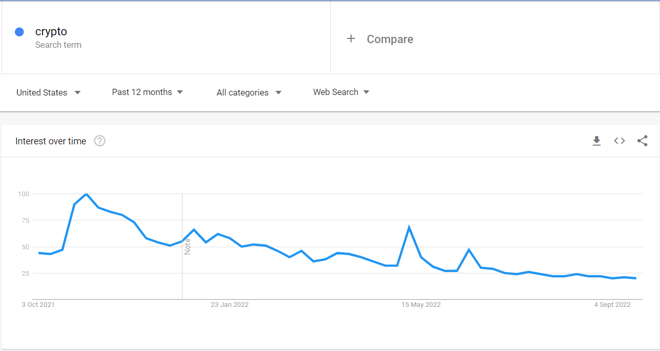 Analysis of Google Trends data reveals thatinterest in cryptoover the past 12 months has reachedan all-time low.
A new finding by the financial news site, AtoZMarkets.com, shows that interest is over80 times lowerthan the peak of early November 2021.
Despite the significant drop in online interest we wanted to find out which states still have their crypto obsession intact.
To do that we've continued to look at Google Trends data over the last 12 months for some of the main crypto-oriented search terms.
These searches were then combined to give each state a total score to determine which is the most to least crypto-obsessed.
The Top 10 Crypto-Obsessed States
California is the state that has the highest interest in crypto with a score of 675.
Nevada follows with 617 and New York on third, scoring 602.
Here is the full top 10:
1. California - 675
2. Nevada - 617
3. New York - 602
4. New Jersey - 592
5. Florida - 576
6. Washington - 562
7. Hawaii - 548
8. Utah - 518
9. Massachusetts - 515
10. Oregon - 513
The 10 States Least Interested in Crypto
At the opposite end of the scale, we have the 10 states which are the least interested in crypto.
Here Mississippi ranks decidedly lowest with a score of 302, showing over 100% less interest when compared to California.
These are the bottom top 10:
41. New Mexico - 372
42. Oklahoma - 354
43. Tennessee - 352
44. Arkansas - 350
45. Iowa - 341
46. Louisiana - 339
47. Alabama - 338
48. Kentucky - 327
49. West Virgina - 308
50. Mississippi - 302
A spokesperson for AtoZMarkets.com commented on the study: "The crypto-world has had its fair share of ups and down in terms of popularity, often brought on by new inventions like NFTs or other exotic things like Dogecoins capturing public interest.
And while the sector as a whole has lost a lot of traction, this study clearly shows how varied the interest is across the country, with California coming out as the clear crypto-hyped state."
I hope this study was useful and gives some interesting numbers on the current state of crypto in the US.
If you have any other questions about this study, feel free to get in touch.
Best regards
Vegard Broch
Subjects
---
Bitcoin
Ethereum
Cryptocurrency
Cryptonews