Press release
September 26, 2022
Pets
News
Mental health
Animales
Online Searches for Emotional Support Animals Reaches All-Time High in the US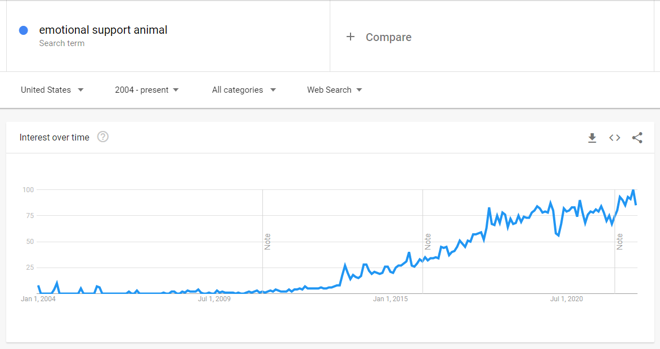 Analysis of Google search data reveals that online searches for emotional support animals in the US reached an all-time high in August.
A new finding by animal information website 
WhatAnimalsEat.com
 reveals that online interest in emotional support animals, or ESA, has climbed to 
new unprecedented levels
.
"Interest in emotional support animals has steadily grown over the last few years.
Statistically, one in five adults in the US will suffer from a mental illness in a given year, and emotional support animals are of great help to many (source: nami.org).
With more focus on the importance of mental health, and emotional support animals like Wally the Alligator going viral, all have helped drive further awareness", states Elina Agnati, founder of 
WhatAnimalsEat.com
.
There is no official number on how many emotional support animals there are in the US, but it's clear that the interest in them is continuing to grow.
I hope this analysis is useful and insightful.
If you need anything else, do get in touch!
Best regards,
Elina Agnati
Subjects
---
Pets
News
Mental health
Animales